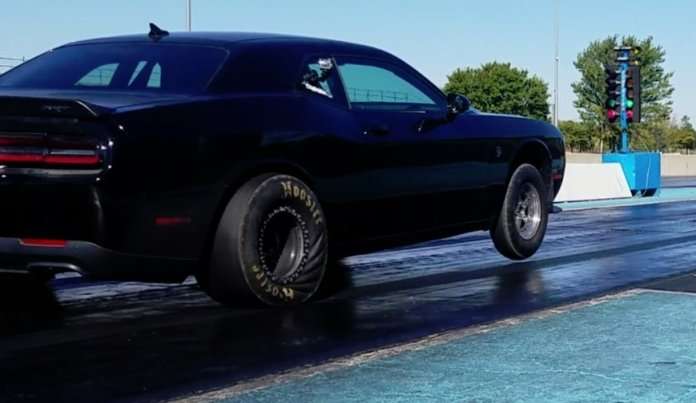 Epling Garage Dodge Challenger: The 1st Hellcat in the 8s
https://www.torquenews.com/106/epling-g ... hellcat-8s
This past weekend, the Epling Garage Dodge Challenger SRT Hellcat reset the record for the quickest quarter mile time for a Hellcat-powered car while also becoming the first Hellcat car to run in the 8-second range – and they did it with a manual transmission.

Back in May, we brought you the story of the Epling Garage "007" Dodge Challenger SRT Hellcat, which had run a quarter mile time of 9.06 to claim the record for being the quickest Hellcat-powered car in the world. Since then, the Epling Garage father and son team of Leon and Jason have been working on getting more power out of the supercharger Hemi while also working on getting away from the starting line and down the track more efficiently.

Those efforts paid off this past weekend, with the Epling Garage Hellcat Challenger becoming the first Hellcat car in the 8-second quarter mile range, while obviously extending their lead on the list of the world's quickest Hellcat cars.

The Epling Garage Dodge Challenger SRT Hellcat Runs 8s
In case you missed our piece back in May, here is a quick rundown on the Epling Garage Dodge Challenger SRT Hellcat. The engine internals are completely untouched, with all stock displacement, stock camshaft and the stock supercharger. The team has added a smaller upper pulley (leading to more boost), larger fuel injectors, a Kenne Bell Boost-A-Pump, a nitrous system and an awesome Q16 race gas tune from Josh Schwartz at High Horse Performance.

Behind that supercharged Hemi is a race-ready 6-speed manual transmission from Liberty with a pro stock style clutch, a Knoxville Driveline 1 piece steel driveshaft, a 9" rearend from the Driveshaft Shop, 35 spline axles from the Driveshaft Shop and lightweight Holeshot 15" wheels wrapped in 29 inch Hoosier slicks.

All of those features were the same when the Epling 007 Challenger ran 9.0s earlier this year, but since then, they have added a new tune from Josh at HHP, a new coilover suspension setup and a 2-step for the launch, but other than that – it was just a matter of seat time.

With the added track time since their 9.06 record and the few changes mentioned above, the Epling Garage team was able to cut their record from 9.06 to 8.91 at 156.14 miles per hour. No Hellcat car has ever run in the 8s, making this the quickest run, but that trap speed is also the fastest any Hellcat car has gotten down the track.
Nice!