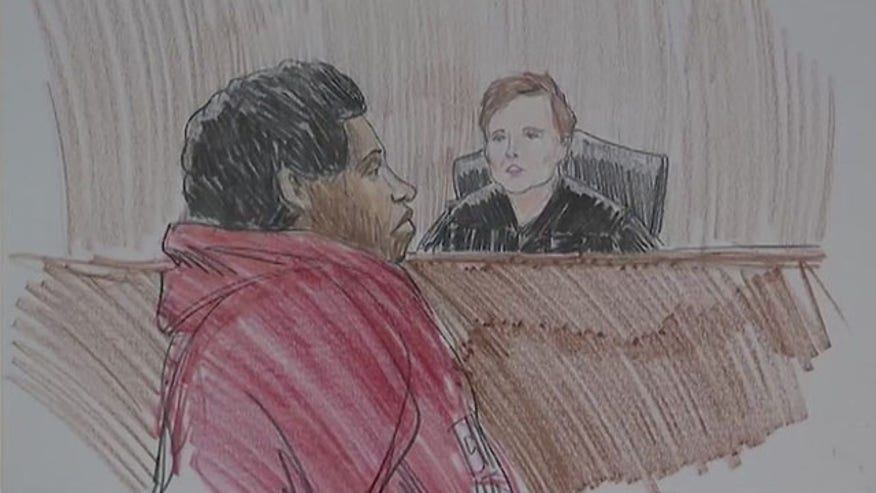 Student charged with University of Chicago threat released to mother's custody
http://www.foxnews.com/us/2015/12/01/au ... -shooting/
The 21-year-old charged with posting threats to kill white students or staff members at the University of Chicago and was motivated by the police shooting of a black teenager was released from jail Tuesday and put under house arrest.

Authorities said Jabari Dean was responsible for a mass shooting threat that forced the University of Chicago to cancel classes Monday at the prestigious college to avenge the shooting death of a black teenager at the hands of a Chicago police officer last year.

A federal judge agreed to put Dean under house arrest in the custody of his mother. The engineering student will be allowed to attend classes but was released on the condition that he stay off the Internet.

His mother expressed concern at Tuesday's hearing about her son's job prospects because of the arrest.

Dean appeared in court Monday afternoon and did not issue a plea on a charge of transmitting a threat in interstate commerce. A federal criminal complaint said that Dean admitted to FBI agents that he had posted the threat Saturday, but took it down shortly after posting it.

The criminal complaint said that someone tipped off the FBI Sunday to a threat that was posted on a social media website. The FBI was unable to find the threat online, and was provided a screenshot by the person who reported the threat.

The Chicago Sun-Times reported that the posting on worldstarhiphop.com read as follows: "This is my only warning. At 10 a.m. on Monday mourning (sic) I am going to the campus quad of the University of Chicago. I will be armed with a M-4 Carbine and 2 Desert Eagles all fully loaded. I will execute aproximately (sic) 16 white male students and or staff, which is the same number of time (sic) Mcdonald (sic) was killed. I then will die killing any number of white policemen that I can in the process. This is not a joke. I am to do my part to rid the world of the white devils. I expect you to do the same…."

The paper reported that the comment was posted under an online profile called "JRD", which used a Chicago Bulls logo as a profile picture.

Dean is a first-year undergraduate student in electrical engineering at the University of Illinois at Chicago, UIC spokeswoman Sherri McGinnis Gonzalez. Dean's lawyer declined comment Monday. A judge ordered Dean held until Tuesday's bond hearing, when prosecutors will likely agree to let him be released to his mother.

Despite the threat mentioning three guns, a prosecutor told Monday's hearing that Dean did not appear to pose a threat. The Sun-Times reported that no weapons were found by police who searched Dean's off-campus apartment. He faces a maximum sentence of five years in prison.

Dean's uncle, Phillip Rutherford, told reporters that his nephew had no intention of carrying out his threat, calling it "just fun and games."

"Stupid. Silly ignorant. Goofy. Everybody is upset. The whole family is upset," Rutherford told Fox 32.

The threat was posted days after city officials released a video of Officer Jason Van Dyke, who is white, shooting 17-year-old Laquan McDonald, who was black, 16 times. Van Dyke is charged with first-degree murder. His bond was set for $1.5 million earlier Monday, and hours later, he paid the $150,000 needed and was released.

The video's release sparked a series of protests across the city last week, most notably attempting to shut down Michigan Avenue's Magnificent Mile on Black Friday.

The University of Chicago, where President Barack Obama taught law, first alerted students and staff Sunday night about a threat that mentioned the quad, a popular gathering place, and 10 a.m. Monday. The school urged faculty, students and non-essential staff to stay away from the Hyde Park campus through midnight Monday and told students in college housing to stay indoors.

The cancellations of classes and activities affected more than 30,000 people, though the University of Chicago Medical Center was open to patients.

Classes resumed Tuesday after what university President Robert Zimmer said was a "challenging day."
This woman has a domestic terrorist for a child -- and she's worried about his job prospects?
We need to be worried about keeping this piece of crap out of society so he cannot do harm.
Keywords:
Jabari Dean, #JabariDean, Domestic Terrorism, #DomesticTerrorism, Chicago, #Chicago